Heartbleed Bug
Sunday 13th April 2014 at 10:18pm by Richard Davey
The Heartbleed Bug is a serious vulnerability in the popular OpenSSL library which has been recently and widely publicised by the media. This weakness allows stealing the information protected, under normal conditions, by the SSL/TLS encryption used to secure the Internet and is still affecting many sites across the web, including services such as email, instant messaging (IM) and some virtual private networks (VPNs).
The Heartbleed bug allows anyone on the Internet to read the memory of the systems protected by the vulnerable versions of the OpenSSL software. This compromises the secret keys used to identify the service providers and to encrypt the traffic, the names and passwords of the users and the actual content. This allows attackers to eavesdrop on communications, steal data directly from the services and users and to impersonate services and users.
We have patched all systems that may have been exploited, but we recommend that users consider the implications of this bug across the internet, and change any passwords of services that you believe could be effected.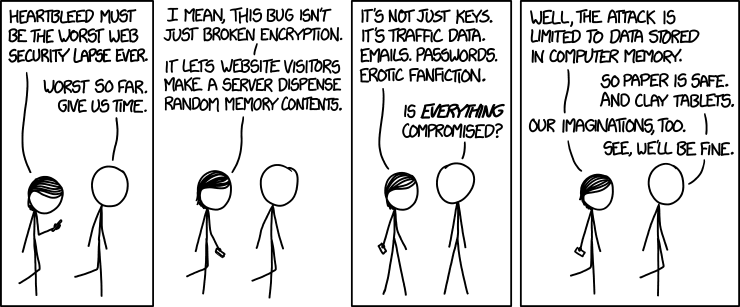 ---
Comments
---
More News
Monday 29th June 2015 - We are pleased to announce the new Harbron Recruit website is now live! Harbron Recruit got in touch with us recently, as they wanted their Wordpress site moving to a bespoke platform and also wanted to extend their site with custom functionality.
Tuesday 28th April 2015 - Just as your screens and internet connections leap into the future, so should your website!
Thursday 23rd April 2015 - Google has now released it's new mobile search algorithm and has released a handy tool to help you check your website.
Wednesday 15th April 2015 - Sometimes you find that your web browser just doesn't have that certain feature that you want. Extensions and plugins have come to the rescue, but are the extensions or plugins you have installing from a trusted source?
Friday 10th April 2015 - Quite often when we need to write a large amount of code to complete a particular task we'll first look to see if someone has already written an open source library which we can use instead of spending hours or days writing something that will do that same thing.